The XFL is the players' league. Let's take a look at some of the best original XFL jerseys from the league's first go around.
I am one of those people who love the original XFL.
(RELATED – XFL 2020: Everything You Need To Know)
The product wasn't great on the field, but the actual marketing was incredible. One of those great tactics was letting players choose the name on the back of their jersey.
There were some absolute gems, but I want to take a look at some of my personal favorites.
The league is ready to reboot in February 2020, and I'm not sure what the jersey situation will be, but the originals were awesome.
(Related – XFL Opening Odds & Props)
Here's a taste of my top five, and if you hate it… you can hate me.
5. "Tater"- Mark Tate, DB – New York Hitmen
Mark Tate is considered one of the staple defensive backs of the XFL.
He was a stud at Penn State, but never really panned out in the NFL. He bounced around practice squads, from the Pats to the Eagles, and had a short stint in Canadian football.
He was fun to watch, and was a great kick returner… ya know, even with the whole no fair catch thing.
I just love the nickname "Tater" so much, and I think it deserves so respect on this list.
4. "D-Day"- Donnell Day, DB – Los Angeles Xtreme
This one is just perfect. It matches the alliteration of the name, and it's also a great reference to Animal House.
Great movie.
There are not much stats on Donnell Day because he… well… wasn't great.
He was a bench guy in the XFL, which tells you a lot. However he did pick a great nickname for himself.
3. "Big Daddy"- Jerry Crafts, OT – Los Angeles Xtreme
The nickname every man wants, but only Jerry Crafts gets.
There is no denying that this is a great pick for an offensive lineman, but you gotta see his XFL card to believe this guy is real.
He played for 42 WEEKS IN ONE YEAR. WHAT!?
For those of you that don't know, one year is 52 weeks. He played football for 80 percent of his year just to make his dream come true.
I love it.
He even had a Super Bowl appearance, and he is well-deserved of the nickname "Big Daddy."
2. "Death Blow"- Jamal Duff, DB – Los Angeles Xtreme
This one gave number one a run for its money, but ultimately it will reside at two.
Picture this: you're a wide receiver in the XFL, and you line up in your first game. You run a quick slant over the middle, and catch a dime throw. Not a second after you catch it, you are run over by a truck of a person.
You look up in a haze, and the back of his jersey says "Death Blow."
All I can hear in my head is Hulk Hogan yelling, "Hell yeah brother!"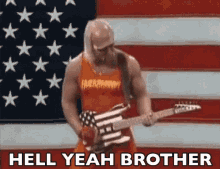 It's the ultimate killer instinct nickname, and it deserves a top spot on most lists, until Rod Smart comes along and ruins it.
1. "He Hate Me"- Rod Smart, RB – Las Vegas Outlaws
Game. Over.
Rod Smart has the greatest nickname of all XFL jerseys ever, and for me to explain it wouldn't do it justice.
So… here's Rod!
It's such a great story, and I love it. Rod Smart has set a standard for jersey nicknames that the new XFL will have to beat.
I don't think it's possible.
Related XFL/Football Content: